So why should you buy an Xbox one Digital, I take a look at all the pros and cons!
The Microsoft Xbox one Digital is a pretty cool piece of kit, and if you are into your gaming then its the current console of choice for many.
Now you can own one for way under £200, which considering what you get is actually pretty mind boggling.
What is the Xbox one digital?
The Xbox one digital is basically an Xbox one but it doesn't have a disc drive, so you can't play games from a disc. This isn't a problem though as you can download all the games you need from xbox live, so here is where a bit of negative comes in. You will need to sign up to xbox live to be able to download games, however it is not that expensive when you consider what you get. You can get 3 months for under £18 here at currys.co.uk this will give you the following
Download and play over 100 games
Get Xbox exclusive games on launch day
Includes Xbox LIVE Gold
Free 6 month Spotify Premium subscription for new Premium accounts
So you get over 100 games to play here is full list of those games and upcoming games you get, so you may never actually have to buy a game. The deal below actually comes with an Xbox Live Subscription for 14 days!
Pros and Cons
Pros
Access to exclusive content
Latest generation console for under £200
Stunning games and graphics
Online gaming
No scratched lost discs
All saves and games stored online, take your gaming anywhere.
Cons
Xbox live required
No disc access
Internet connection required (at least 2.5mb)
So if you are considering buying a current generation console you can't really go wrong with the XBOX one Digital especially with the run up to Christmas and the current deals.
Current best deal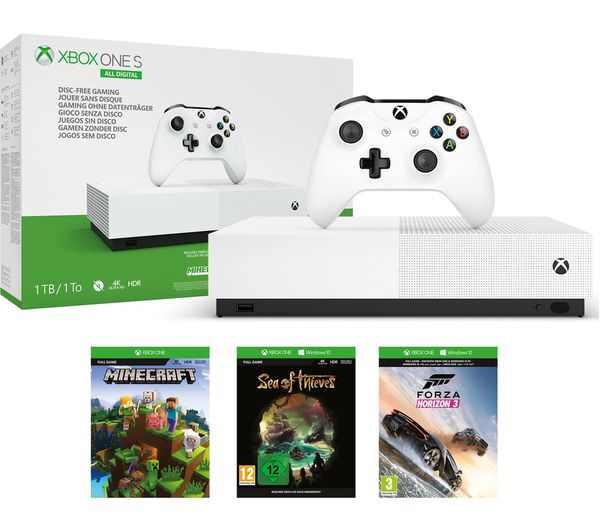 MICROSOFT Xbox One S All-Digital Edition with Minecraft, Forza Horizon 3, Sea of Thieves & Xbox LIVE Gold Subscription from Currys.co.uk Just £198.97
See all bundles here from currys.co.uk
Amazon currently has the console on its own for under £170 here
£199.98
out of stock
5 new from £199.98
1 used from £186.10
Amazon.co.uk
Free shipping
Last updated on August 3, 2020 11:04 am
If you are looking for other console deals like the PS4 or the switch then check out our deals list here
Last updated on August 3, 2020 11:04 am